History
The rich and colorful history of The Kahkwa Club begins with its founding in 1893 as a social club. In 1899 Kahkwa members introduced golf to Erie and the game has been integral to the club ever since. Our family-friendly club has evolved over the years but remains committed to offering something for everyone.
The Early Years
1893–1911
The Kahkwa Club was founded in 1893 with the stated objectives of "social enjoyment and the promotion of aquatic sports." A group of prominent Erie citizens sought a location that was only a carriage ride away from the prestigious "west side" residential area in which many lived. A large parcel of open farmland immediately east of Massassauga Point, a popular summer resort at the neck of Presque Isle peninsula, was purchased for the club. One hundred and five people subscribed to the initial membership offering.
In 1899, 11 years after golf was introduced to the United States, Kahkwa Members formed the Erie Golf Association and secured a lease for a 100-acre parcel of land. In one month, a "regulation" nine-hole golf course was constructed on the property, bounded by today's West Eighth Street, Lincoln Avenue and the bayfront. A new golf clubhouse was built that same year at the northeast corner of Vermont Avenue and Oxford Streets. This original clubhouse from Erie's first golf course still stands today.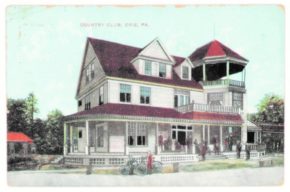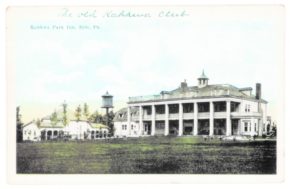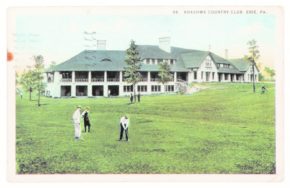 ---
The Move to Swanville
1912-1945
In the early 1900s, a new rubber-cored, rubber-wound golf ball added 20 yards to tee shots and caused golf courses around the country to be rebuilt to add length. With their land-locked nine-hole course offering no ability to expand, in 1912 Kahkwa members authorized the purchase of 200 acres west of Erie in the tiny community of Swanville. In anticipation of the move west and construction of an 18-hole course, the club hired Charlie Hymers from Carnoustie, Scotland, to be their head golf professional.
After Hymers reported to Kahkwa in 1915, he recommended a fellow countryman named Donald Ross to design the new golf course. Ross had emigrated to the United States in 1899 and by the time Kahkwa came calling had established himself as the premier golf course architect in the country. Donald Ross began the design of the new golf course on May 17, 1916.
Ross' design for the new Swanville course was for it to be built in two stages, nine holes each. As was typical in golf course construction before 1920, large labor forces using wheelbarrows, spades and shovels did the majority of the work. Earth moving was done by horse or mule-drawn scoops and steam-driven machinery was used to remove tree stumps. The first nine holes of the course opened for play in May of 1918 and the formal opening of the new clubhouse was on the 30th of that same month.
During the 1920s, it was commonplace for winners of big championships to tour the country and play in exhibitions. In 1923, Kahkwa officials were able to put together an exhibition between Joe Kirkwood, Australian champion and Walter Hagen, British Open champion. Upward of a thousand spectators were treated to a new course record of 67 by Hagen and thrilling trick shots by Kirkwood.
Club membership invited Donald Ross back to Kahkwa in 1927 to determine if the course could be improved by the addition of hazards and trees. Ross toured Kahkwa for seven hours, carefully assessing the entire layout. Ross subsequently submitted a hole-by-hole plan that included changes to a number of holes and adding many more bunkers - the result of which would make Kahkwa comparable to any championship course in the country.
---
Recent History of Kahkwa
1946–Present
As is true for many of Donald Ross' most famous courses, Kahkwa has periodically undertaken changes to improve the playability and challenge of the layout. In 1999, Kahkwa turned to Ronald Forse, a well established golf course architect known for restoration work on Donald Ross courses. Forse's plan for Kahkwa included restoring the original character and integrity to the bunkers, fairways and greens. He added several bunkers that were part of Ross' original plan and added new bunkers on many holes similar to Ross' style. Greens were restored to their original dimensions and numerous new forward tees were added.
As the ongoing improvement in golf ball and club technology continued to change the way courses were playing, in 2009 Kahkwa contracted Brit Stenson of IMG Golf Course Design to develop a new master plan to make additional changes to the course.
Among the many goals of the plan was the desire to improve the playability of the course for higher handicap players and add length to restore Ross' original shot values for the longer-hitting player. Bunkers were removed, reshaped and added, several new back tees constructed and practice facilities improved/expanded.